Moms for Liberty, a conservative parents group is the first to file a complaint using Tennessee's newly enacted anti-critical race theory law. The subject of the complaint is a book about Martin Luther King Jr. and civil rights. The complaint calls the book "anti-American." You can read the entire complaint here.
Moms For Liberty filed an 11-page complaint arguing that the book called Martin Luther King Jr. and the March on Washington promotes "Anti-American, Anti-White, and Anti-Mexican" lessons. The group focused on photographs showing segregated water fountains and Black children being hosed down by firefighters.
They believe the accompanying lesson plan shows a "slanted obsession with historical mistakes" and would prefer it not be taught in the Williamson County Schools.
The group also objected to the teacher's manual accompanying the book because it had a negative depiction of Bull Connor, the notorious racist who used hoses and attack dogs to enforce segregation.
Moms For Liberty also objects to another book in the curriculum about Ruby Bridges, "The Story of Ruby Bridges by Robert Cole," because the book does not mention "black heroes" such as "Justice Clarence Thomas," "Morgan Freeman," and "Secretary Ben Carson."  
The complaint alleges that this Second Grade Language Arts curriculum includes 9 of the 11 concepts prohibited by the new anti-CRT law. Further, Moms For Liberty asserts that "[s]ome children are seeing counselors to overcome the emotional trauma inflicted upon them" by this curriculum. 
This week, the Tennessee Department of Education rejected the complaint. But it wasn't based on a determination that the curriculum did not violate the new anti-CRT law. Rather, Moms For Liberty made a technical error in submitting its complaint. The group referenced instruction during the 2020-21 school year. But the law only applies to curriculum starting with the 2021-22 school year.
The same texts, however, are still being used by Williamson County second graders. Moms For Liberty could easily refile its complaint and, next time, it might be successful. 
Earlier this month, the Tennessee Department of Education released an 11-page rule detailing how the law will be implemented. Teachers who are found to be violating the law — by, for example, suggesting that people of a certain race have more privileges than others — can be subject to "[d]isciplinary or licensure action." In other words, teachers who discuss race or gender in ways that are prohibited by the law can not only lose their job, but their right to be a teacher in Tennessee.
Rep. Randy Fine, a Palm Bay Republican, has filed a similar measure (HB 57) that includes a ban on using critical race theory in training, policy or more in public schools, colleges and universities. The ban also extends to state agencies, county and municipal governments and private contractors working with the government.
"Critical race theory is racist at its core, and has no place in the state of Florida," Fine says.
Fine's bill goes further than prohibiting critical race theory. It would ban a 10-point list of "divisive concepts," including topics around sexism and "race or sex scapegoating." The proposal also bans teaching that one race or sex is inherently superior to another, that the United States is fundamentally racist or sexist and that individuals are inherently racist, sexist and oppressive based on their own race or sex.
The author of the complaint to the Tennessee Department of Education is Robin Steenman, chair of the Williamson County chapter of Moms For Liberty. Steenman's initial complaint about the Second Grade Language Arts curriculum, which was submitted to the Williamson County School Board, included objections to a teacher's guide that wasn't used in Tennessee schools — it was from Florida.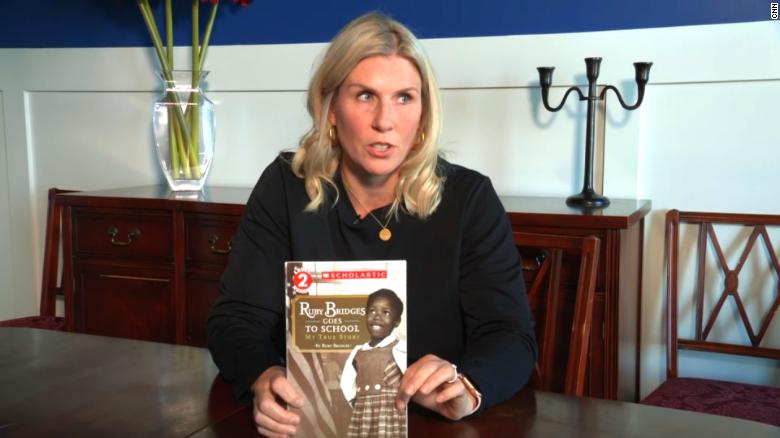 Steenman is not a parent of students in Williamson County public schools. On her Twitter account, which has since been deleted, Steenman said in August 2020 that she would "never" send her kids to public schools and described public school teachers as "brainwashing assholes."
The Moms For Liberty website recommends The Making of America, a 1985 text by W. Cleon Skousen, who died in 2006.
Skousen's book characterizes "black children as 'pickaninnies' and American slave owners as the 'worst victims' of slavery." The book claims that the Founders wished to free the slaves but "[m]ost of [the slaves] were woefully unprepared for a life of competitive independence." Skousen asserts that abolitionists "did much to perpetuate slavery" by taking a "too militant" approach.
There is a section of the book titled "Three Fifths Compromise Not Demeaning To Slaves."
CNN reported on the issue, and interviewed Robin Steenman directly.