Kenneth Reda, 55, was arrested by FBI agents on July 7, 2021 on charges of entering and remaining in a restricted building, disorderly and disruptive conduct in a restricted building, disorderly conduct inside the U.S. Capitol and making violent entry to the U.S. Capitol Building.
Brevard County Public Schools placed Reda on leave after he was arrested, and Reda resigned Aug. 13, according to the district.
Records show he was a physical education teacher at Viera High School at the time of the Capitol riot.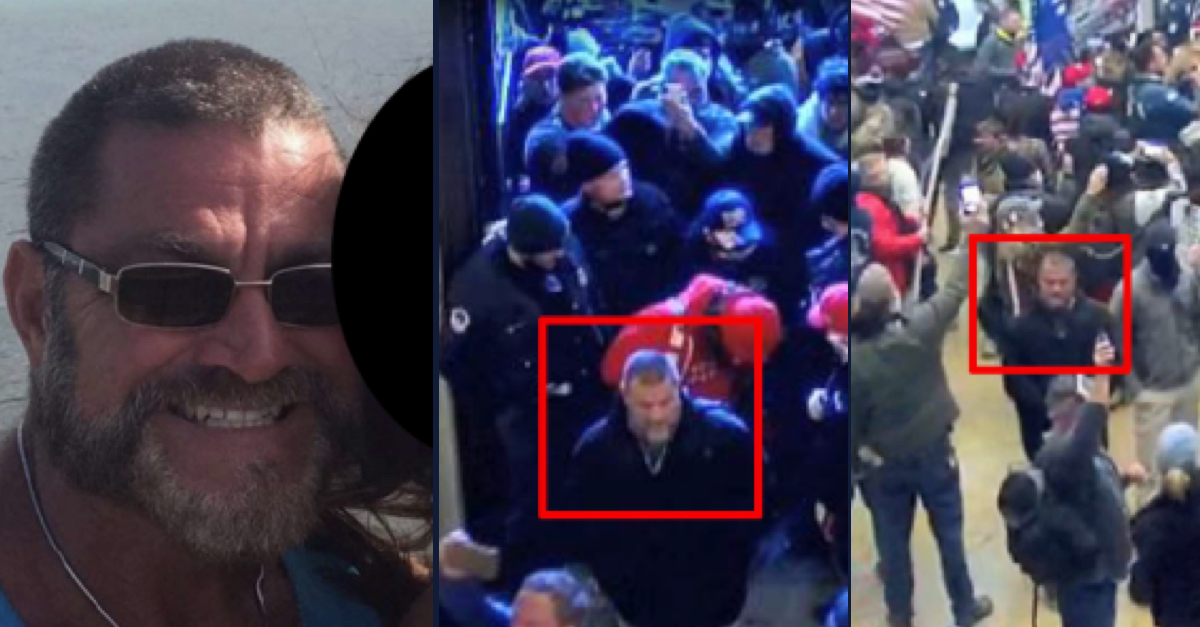 The FBI received a tip on Jan. 18 with a screenshot of messages on Parler, the far-right social media site. They claimed one of the commenters, under the screen name "mrjoebidenhead," was Reda admitting to being inside the Capitol on Jan. 6.
"It is IMPERATIVE that we let our elected federal officials know in both the Senate and the house that we will not be voting for them again if they do not support our President Trump on January 6th when they are cou thing (sic) Electoral College votes this is the cleanest Constitutionally right way for Trump to win a 2nd term. WE MUST LET THEM KNOW THE THING THATTHE (sic) COVET THE MOST THIER PPWER (sic) WILL BE GONE IF THEY DO NOT SUPPORT TRUMP."
"We have got to get to DC on January 6th it is IMPERATIVE every single person that VOTED for Trump has to flood DC…." read one post, according to the complaint.
Another read, "It is time to organize PATRIOTS we need to get together and organize against this KABAL we need to overthrow it….the have thrown their last ditch effort to overthrow this election therefore this nation if we do not come together and organize we will LOSE."
Reda added that "violence and vandalism was very minor minus the cops shooting a young girl."
The FBI confirmed the account to be Reda's and confirmed that his mobile device was located inside the building on January 6th. Agents also observed Reda in multiple surveillance videos from inside the Capitol building.
After initially pleading not guilty, Reda changed his plea to guilty in a plea deal. He received 60 days of home detention and three years probation, along with 60 hours of community service and $500 in restitution, after pleading guilty in November to parading, demonstrating or picketing in a Capitol building, according to a spokesman for the U.S. Attorney's Office for the District of Columbia.
Reda is now back in the classroom teaching History and P.E. at Trinity Lutheran School, a private school in Rockledge.
"It's ridiculous that a man that believes the election was "stolen" is teaching my children history," said Mrs. Gibson.
According to her, students in Reda's class said that he became very angry when a student joked about former President Trump's hair being a toupee'. His behavior was so "off the wall" that it caused a few of the students to google him. That's when they discovered his arrest for participation in January 6th.
Gibson said she questioned the school's principal Becky Houston about Reda's employment because he is not listed on the school's website as a staff member. Gibson believes that the school is trying to hide his employment there from the public. She stated that she also asked if the school was aware of Reda's guilty charges and that he is currently on probation. She says that Houston said that their school is about forgiveness, but also that she was not aware of the probation.
This brings into question the school's background check and screening process for its employees, as Reda recent criminal history comes up on a simple google search.
We asked for comment from Mrs. Houston and she did not respond.
Public records show that Reda isn't the only staff member with a felony arrest record teaching at Trinity Lutheran. 5th grade teacher Jaqueline Pujol was arrested for felony aggravated assault domestic violence, and battery domestic violence, although the charges were later dropped for unknown reasons.
A further look into the teachers at Trinity Lutheran also shows that only 3 of the teachers listed as staff on their website actually have a current teacher certification according to the Florida Department of Education.
Gibson says that she believes the reason Kenneth Reda was able to secure a job at Trinity is because his son Dylan, a former professional athlete with a large social media following, also works there as a P.E. teacher. He is listed on the website.
Like his father Ken, Dylan was also a coach for Viera High School's football team.
Not satisfied with the response from the school over Ken Reda's employment, Gibson said she told the school she was going to transfer to another school. She said the principal's response was simply "tell us where to forward the records."
Education and teachers has become the hot button topic of this election cycle. Notably, State Representative Randy Fine has been on the front lines increasing regulations and restrictions on public schools, while at the same time encouraging parents to transfer their students from public schools to charter and private schools. He has also increased the amount of funding these schools receive from the state.
However, those schools are not forced to abide by the same laws that he and other legislators have been implementing. They receive state funding, without having to abide by many state laws and requirements. The hiring of Ken Reda and others is an example of the exceptions.
Parents who send their children to charter/private schools are encouraged to look into the hiring practices/standards of these institutions themselves.