Cape Canaveral City Council candidate Carroll Sanders (Republican), an attorney, was arrested in Jacksonville when he exposed his penis to an undercover detective through what is known as a "glory hole" in a Walmart public bathroom.
Wikipedia describes a glory hole as: a hole in a wall or partition, often between public lavatory cubicles or sex video arcade booths and lounges, for people to engage in sexual activity or observe the person in the next cubicle while one or both parties masturbate, tea-bag or fellate.
The arrest report reads that the detective was seated in the stall next to the stall that Sanders entered into. The detective states that he stuffed the hole with paper. When Sanders entered the stall, the report states that after about 5 minutes, he removed the paper and began looking into the hole to the other side. The report states that he then began playing with his penis while staring at the detective.
Sanders was then arrested and stated to both detectives that he had heard about the glory hole on the internet, and that it was a good place to meet people in the bathroom. He then told detectives that he did this because he was bi-sexual, visiting from Georgia, and didn't know anyone here.
You can read the arrest report here.
He plead no contest to the 2003 arrest and was adjudicated guilty, sentenced to two days in jail, and fines. When he applied for his Florida Bar License, he had to report his arrest and no contest plea to the bar. You can see that arrest report here.
From Carroll Sanders' campaign website.
Sanders' law firm website says that it's a "Full-Service Real Estate, Business, Probate & Estate Planning Law Firm." A video there shows an interview he did with Fox News about a 2022 lawsuit he filed against Disney Co. for discriminating against Christians working for them.
His campaign Facebook page shows him campaigning with School Board Candidates fighting to protect students from trans students in school bathrooms.
Yesterday, Cape Canaveral Mayor Wes Morrison sent out a city-wide email endorsing Sanders.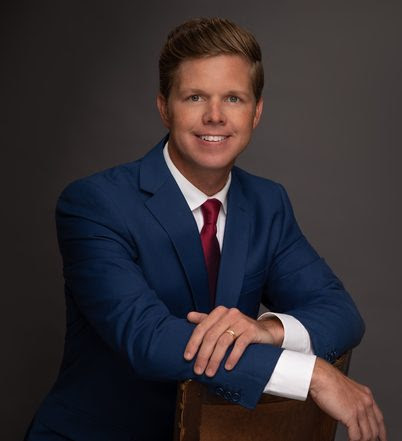 His Facebook page also states that he is endorsed by Brevard County Sheriff Wayne Ivey.
We reached out to the campaign number Sanders has published and left a voicemail. As of the writing of this article, we have not received a response.
He was also endorsed by the Space Coast Young Republicans receiving donations from them and personally from President Josiah Gattle. They state that their vetting committee has more than 50 years of experience.